Daycare
We love dogs and what we do!
To ease your mind when you are away at work, running errands, or keeping appointments, relax. Your dog will be well cared for in our daycare.
We have the best indoor daycare flooring in the Tri-Cities! Professional level seamless rubber Sports flooring is designed specifically for safety and intense play. Dogs, like kids, just love to race around and goof off with their new pals. Our flooring is designed to potentially prevent hip and joint injuries and protects their paws when they are playing with their furry friends.
We have separate rooms for big dogs and little dogs. Although your little dog may have a big dog personality, it's safer to keep them with pals their own size to reduce the likelihood of any accidents due to size differences.
​
Young puppies are introduced to the daycare in a slow fashion. This means they start in the small dog room with a few pals and slowly graduate to playing full time with every dog. This allows your puppy to go at their own pace and gradually get used to daycare.
​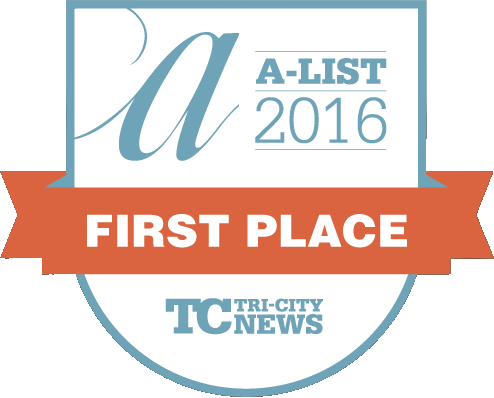 The Daycare Assessment
To ensure the safety of your pet we require that all of our potential daycare members take part in a short interview to assess their behaviour in a group environment and make sure that everyone is comfortable and happy. Once your dog is approved, it is required that your dog attend daycare a minimum of once a week; this maintains our relationship with your dog and helps your dog stay familiar with the routine and all of her furry friends. Any dog that has not been assessed and approved will not be allowed in daycare.
Please call or email us to schedule your dogs assessment.
Requirements:
Dogs must be up to date on all vaccines including bordetella (kennel cough vaccine). Please bring in proof of these vaccines when you come for the interview.

Dogs must be on a flea preventative program.

All male dogs must be neutered by 1 year of age. Female dogs may remain intact but are not permitted to attend daycare while in heat.

All interviews are scheduled and held between 10:30am-11:30am and 1:30pm-3:00 pm Monday to Friday.​
The Daycare Routine
Dogs typically begin to arrive for the day between 6:00am and 11am. They are taken straight out to our fully fenced outdoor area for a potty and then enter the daycare for supervised play! Every hour the entire group go out for potty time (puppies are put on timers as they potty more frequently than the adult dogs. This helps us stay on top of all the hard work you have put into potty training your puppy).
If your young dog requires a lunch we encourage you to bring it for them. We feed all the dogs that brought a lunch at noon before they go down for their afternoon nap.
The dogs nap for one hour in our specially designed nap rooms. The rooms consist of crates for those dogs who prefer a cozy place of their own and also an open space with dog beds and blankets to lounge on.
Once they wake up from nap time, play starts all over again until you come to get them!
​
​
The Daycare Team
Daycare Manager
As a child, my goals in life were to become a dinosaur tamer and to own dozens of dogs of all different types. Now with over a dozen years of experience working with dogs as a profession in various fields and nearly a lifetime of owning them (albeit just one or two at a time), I am right at home and loving every moment of caring for dozens of other peoples dogs at Dapper Dog. By seeing each dog on a regular basis in daycare, I feel a personal connection with each of them; and while I've never met a dinosaur, nor do I technically own the dozens of Dapper Dog dogs, I think my 6 year old self would be as thrilled as I am with where I'm at today.
Daycare Manager
"I have been working with dogs since 2004 and I absolutely love what I do for a living. Every day I get to share your dogs joy and happiness and I am always learning new things from these wonderful companions. Being a part of The Dapper Dog team is a great joy and a pleasure and all my dogs think it's pretty great too!"
Daycare Attendant
"I always had a passion for working with and caring for animals, with the experience I have gained from P.A.D.S. (Pacific Assistance Dogs Society) it has only made my passions even greater. Over the years I have come across so many amazing fuzzy four legged friends, big and small. Having dogs in my life has been the greatest thing I could have asked for; they are the greatest companions and are always there for you. I want to return the favour by being there for them by providing as much love, care and attention as possible."
Daycare Attendant
"As children, my sister and I were the neighbourhood dog sitters; and for every one we cared for, my love for dogs grew. I have always wanted to work with animals, so working at Dapper Dog has been a wonderful experience for me. I started here in summer of 2018 and I feel so lucky to be able to spend time with your dogs and get to know them each individually. Being able to go home to my not-so-patiently waiting Chihuahua cross, Dobby, is always a great end to my day."
Daycare Attendant
"Growing up I was always surrounded by dogs and over the years I have learnt to appreciate just how much dogs give to us and I am so glad that I get to spend my days showering them with all the love, attention and care that they deserve. Working with animals, particularly the four-legged kind, has been something I have dreamed of since I was little, I am so incredibly excited that I have been given the opportunity to follow through on this dream. I am very happy to have been welcomed into the Dapper Dog family and I look forward to meeting you and your furry friends."
Daycare Attendant
"I have always admired the compassion, love and loyalty that dogs symbolize. After growing up with dogs I fell in love with having them around. When I got the chance to work at Dapper Dog it was one of the easiest decisions I have ever made. After working here for a while, it has definitely opened my eyes to how big the dog world really is! I learn more and more about dogs every day and am always looking forward to who is going to walk in the door next!"
Half Day
10 Half Days
Full Day
5 Day Package
10 Day Package
20 Day Package
$24.00
$220.00
$33.00
$155.00
$290.00
$540.00
2nd dog from the same family gets 50% off when they come on the same day!
​
Minimum 1 day a week attendance for all daycare clients.
We do not accept drop in's. See our daycare page for more information on booking your dogs daycare assessment here.
*Late pickup fees will apply after 6:30PM.*
Daycare Package purchases are all non-refundable.
Open Monday to Friday from 6AM-6:30PM
Closed Weekends and all Statutory Holidays
From September 28th until October 3rd only, our daycare members can take advantage of our Back to School Special!
​
Buy 20 Full Days, get 5 FREE!
Buy 10 Half Days, get 2 FREE!
​
Limit 2 packages per household.
All dogs social skills must be assessed prior to approval into daycare. Please contact us in regards to arranging an appointment if your dog is not currently a member.